Welcome to Apart Hotel Piz Mundin – a place where sustainability and comfort blend in perfect harmony. Our hotel has been designed and implemented with a deep commitment to the environment in order to offer our guests a memorable and eco-friendly experience.
Architecture and design: The hotel has been constructed using the latest environmentally friendly building techniques and materials. The architecture integrates harmoniously with the natural environment and uses natural light sources and ventilation systems to minimise energy consumption.
Energy efficiency: Our energy supply relies on renewable energy sources such as solar energy and a PV system. The flat hotel is heated and cooled in an energy-efficient way using an air source heat pump. The entire facility is equipped with energy-efficient lighting and heating systems that minimise consumption and reduce the carbon footprint.
Sustainable materials: We place great emphasis on the use of sustainable materials, be it in the room furnishings, furniture or the building's construction materials. Recycling and upcycling play a central role in our concept.
Water management: Our hotel uses an intelligent water management system to reduce water consumption. Water-saving technologies are used in the bathrooms and the spa.
Regional cuisine and farming: Our restaurants in the valley offer a diverse range of dishes prepared from local and seasonal ingredients. Together, we all work closely with regional farmers to source fresh and sustainable produce.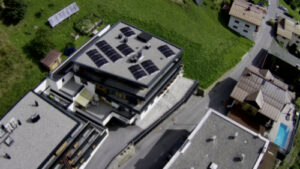 Waste reduction and recycling: We have implemented strict waste separation and recycling programmes to ensure that our waste is reduced and recycled as much as possible. Our guests are encouraged to participate in these efforts. For example, we no longer use nylon bags in our containers.
Social responsibility: We support local communities through social projects and initiatives. Our flat hotel provides jobs for local people and promotes local community education and development.
Your stay at Apartmenthotel Piz Mundin will not only be a relaxing and luxurious experience, but also an opportunity to become part of our vision of a sustainable future. We invite you to enjoy our facility while making a positive contribution to the environment.