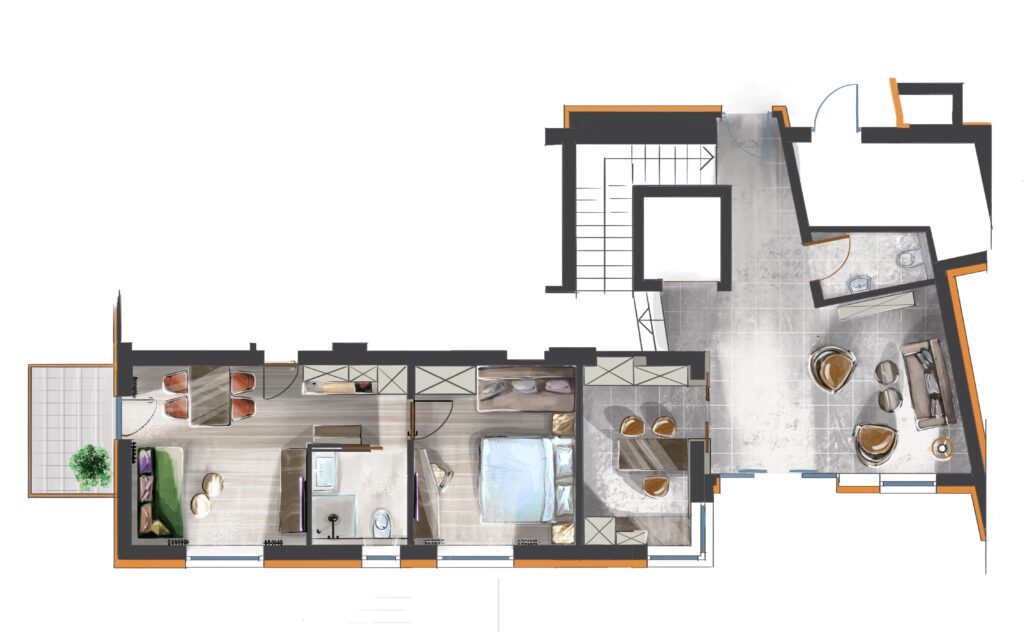 Apartment 5 has 33sqm and offers enough space for 2 to 3 guests. The bedroom has its own bathroom with shower and toilet (hairdryer in place).
From a little terrace you enjoy a wonderful view overlooking the valley. A perfect day ends with a stay in our spacious wellness area. Bath robes and Sauna towels are of course provided in sufficient number.
Room Capacities:
1 Double-bed room with additional bed
Our apartments offer you a stylish and cosy environment – modern design meets tradition. All our apartments have a fully equipped kitchen with dishwasher, microwave, oven, stove and coffee machine. Additionally, we offer you free WiFi, and flat screen TVs can be found in each room. Beddings and big and small towels are of course provided for free.
Daily Fees without extra costs, plus final cleaning (15 € each guest, min. 60 €), plus visitor's tax (2,50 € each guest/each day – children up to 14 are free of charge). Daily Fees for regular occupancy (4 guests, minimum 4 nights), information subject to change.
Cancellation Rules according to regular terms of condition for hotel business (AGBH)
3 months before your travel date no cancellation fee applies
3 months to 1 month before your travel date: 40% cancellation fee applies on the total rate
1 month to 1 week before your travel date: 70% cancellation fee applies on the total rate
1 week to the day of arrival: 90% cancellation fee applies on the total rate
100% cancellation fee applies if you do not show up on your day of arrival
We recommend to contract a travel insurance
Discover the difference between our Aparthotel and other holiday flats.
Our Aparthotel Piz Mundin in Kappl is only a few km away from Ischgl. The flats in our Aparthotel are lovingly furnished with lots of wood and natural materials. All bedrooms in our flats are equipped with their own WC and shower. The living area in each flat is furnished with a fully equipped kitchen. You will also find all the necessary appliances, crockery, pots, etc. in the flat.
The flat is cleaned every other day upon request. The flat can also be booked for one night or longer. This means that your stay in an aparthotel is as flexible as in a hotel and you can plan your stay in Kappl or Ischgl according to your wishes. You enjoy the advantages of a hotel and have the space of a flat.
In our flat hotel, breakfast is served in your flat on request for an extra charge. Before you get up, breakfast is lovingly served in your flat and you enjoy your breakfast in your flat in private with your loved ones right after you get up.
Sustainability is written in capital letters in our aparthotel. For example, the towels are only changed at your own request. Most of the products we offer for breakfast come from the region. All rooms are equipped with a key card that switches off the power to all lights and TV sets when you leave the flat.
Sleeping through the night – this is a big concern for us in our Aparthotel! In our beds and special mattresses you will sleep like a "baby". All flats have mattresses with high-quality, sustainable raw materials and overall convincing ergonomic properties. So you will find the ideal sleeping surface for a restful sleep in our Aparthotel.
Our Aparthotel offers a large wellness area that you can use at any time in the evening. You will find bathrobes and towels in your flat. Enjoy the time out after a beautiful day of holiday.
Our aparthotel offers something for every guest. Whether as a couple, as a family with up to six people or as a group. Our hotel is the right accommodation for your holiday or business trip.
We are waiting for you in our Aparthotel Piz Mundin in Kappl!